Different Types of Custom Closets for your Home
Are you renovating your existing home or creating a new custom home? Or are you simply looking for ways to store your stuff more efficiently? There are multiple types and styles of closets, but in general, it comes down to four: walk-in closet, reach-in closet, linen closet, and pantry. All these closets help you in storing your belongings to be more organized. The size of closets usually depends on the availability of space or your preference; it can either be a walk-in, reach-in, or linen closet.
At Bristol Springs, we usually try to incorporate a few of these in our custom homes to make our client's lives a little more comfortable. You can consider your options to make a more informed decision that, along with satisfying your storage needs, style your space. Let's learn more in detail about different custom closets:
Walk-in Closet
A walk-in closet is usually built if you have a spacious home. This closet is usually a room on its own. It makes the process of organizing more efficient by providing enough space to store shoes, clothes, and other accessories. Having a walk-in closet in your home allows you to see everything without searching through a pile of things. Its main advantage is that you can store everything beautifully without stressing about space.
It also provides an ideal private area which you can use to get dressed in minimum time. Install a mirror in your walk-in closet, make a spot for a hairdryer and transform the ambiance into an elegant dressing room.
This one here is a great example of a walk-in closet from one of our custom homes: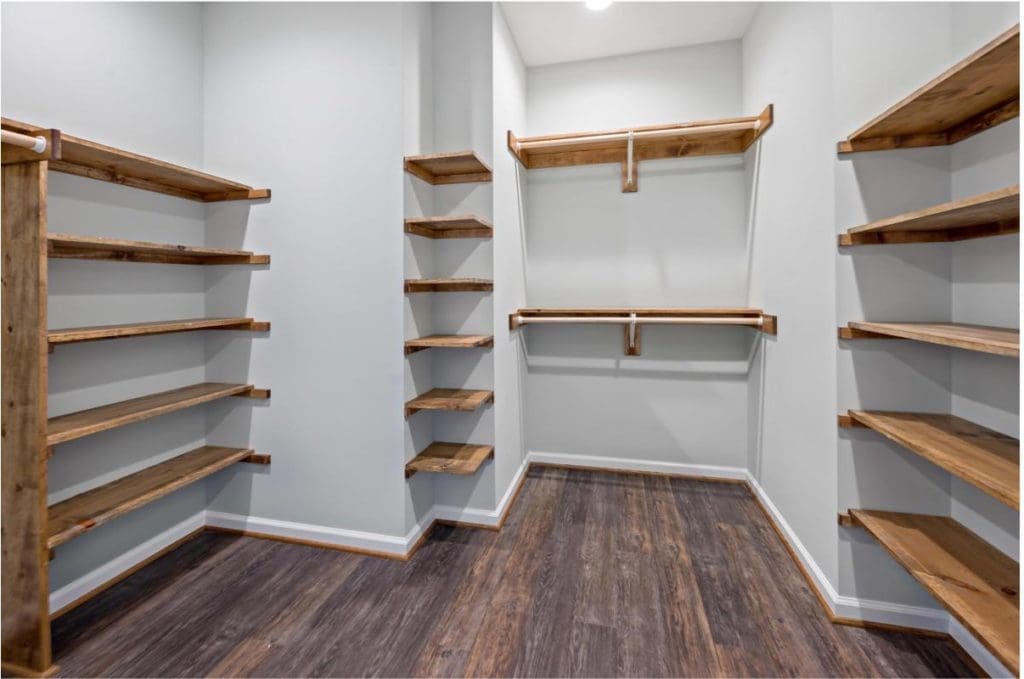 Reach-in closet
The next one on our list is a reach-in closet. It's best to build if you have a small house and less space to spare.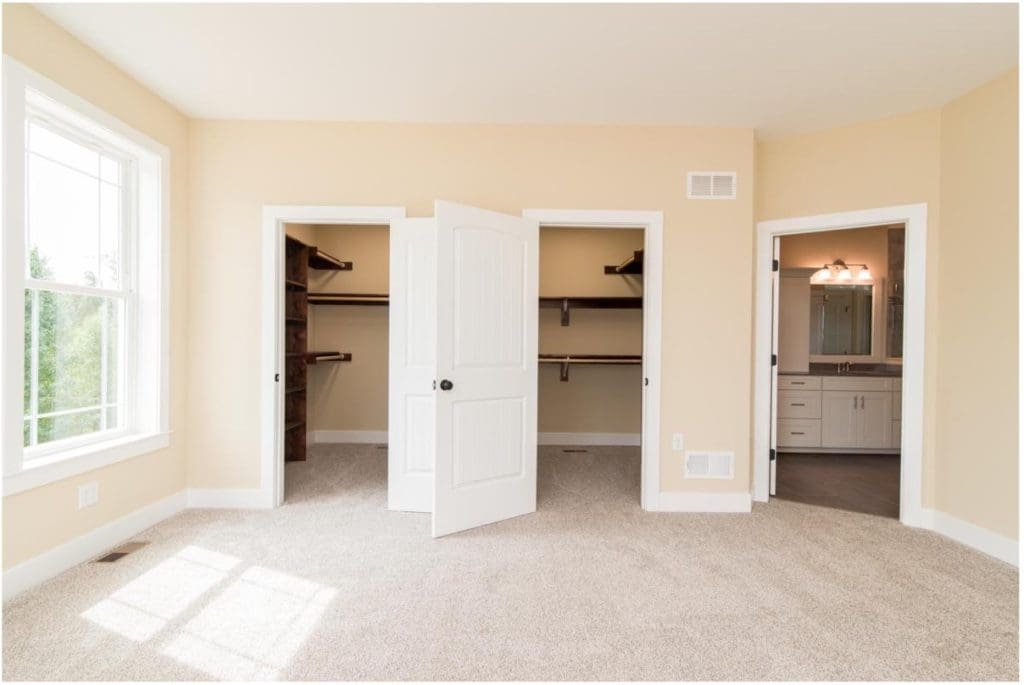 These closets come with long bars to hang clothes, drawers, and shelves for tucking away shirts and pants. Basically, the storage components are designed in a way that lets you store the stuff neatly without taking much space.
As you can see in the image of one of our reach-in closets, compared to a walk-in option, these are typically much smaller. It can be said that it's a compact version of a walk-in closet.
Even though it's small in size, a reach-in closet greatly helps you to be more organized. And you can have it almost anywhere, be it in your bedroom or a hallway, thanks to its small size.
Linen Closet
A linen closet is a great choice if you have a small space to spare or you just want storage for your clothing. These types of custom closets don't take much space in your home and still help you stay organized.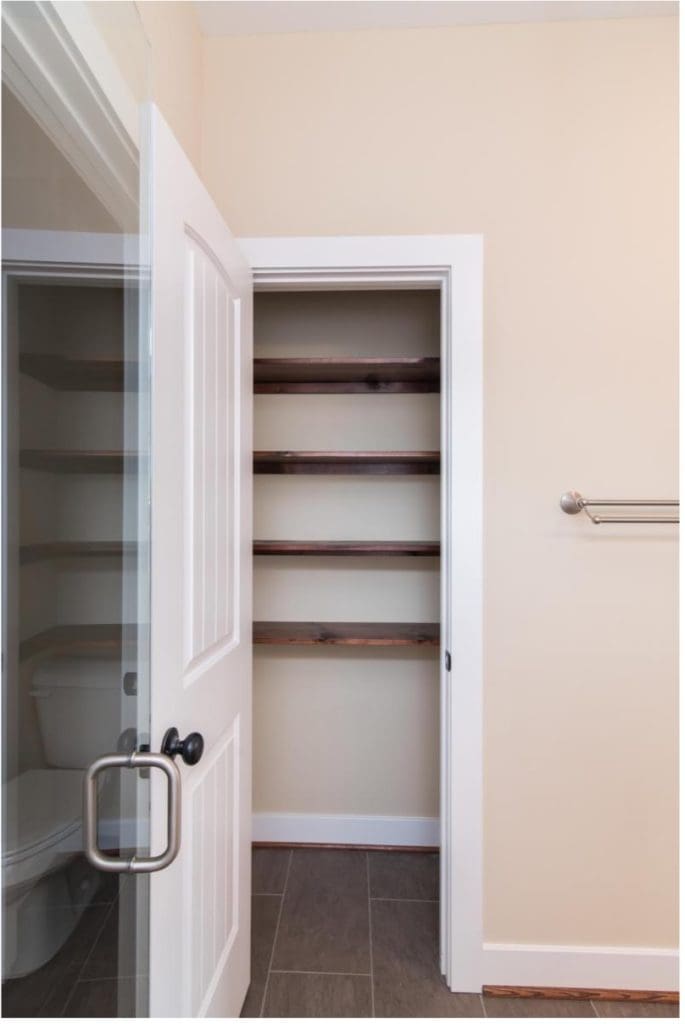 Because of its smile size (even smaller than a full-size reach-in closet), you can build a linen closet just about anywhere. Yes, you can even have it in corner spaces — making it the best for small spaces.
Take a look at the linen closet in our custom home, small and efficient!
Pantry
The last on our list is a pantry closet. This is a type of closet that we use to store food instead of suits. Here you can see a beautiful example of a walk-in pantry in our custom home. From food ingredients, utensils to bottles, you can keep all your stuff in a pantry closet. Creating a mess in your kitchen is very easy; one cooking session, and you'll see a huge mess around. A walk-in pantry like this organizes your kitchen stuff to make the cooking process a lot easier.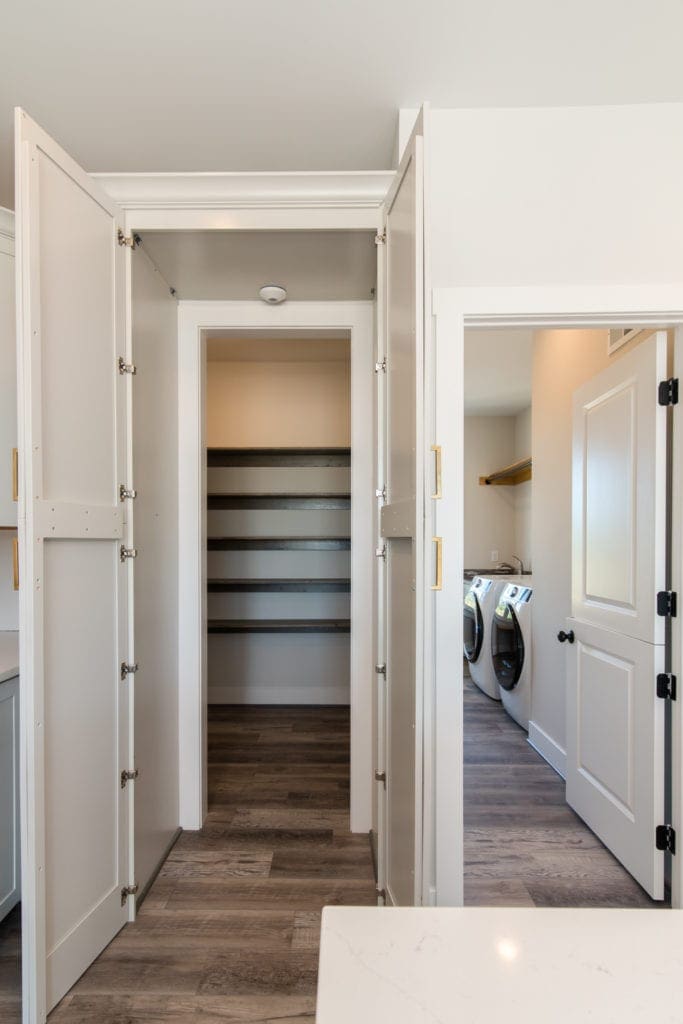 Detailing is one of the most important things that we always consider while designing a custom home. Visit our site Bristol Springs today to see a range of our custom homes. We always add state-of-the-art technology and use the finest material to complete our project. For us, the quality of our projects and our client's trust is a priority that we can never compromise on!